1/6
Runcer First Grade PPE Face Mask FFP2NR Fluid Resistant CE Certified Protective Face Mask FFP2 NR Filter Half Mask 
60000~1199999/slice
$0.25
Quick Details
Payment:
PayPal,VISA,MasterCard,Western Union,T/T
Supply Ability:
500000 slice per day
Runcer First Grade PPE Face Mask FFP2
NR
Fluid Resistant CE Certified Protective Face Mask FFP2 NR Filter Half Mask
Product description
FFP2 CE certified fluid resistant protection mask that filters out at least 95% of airborne particles including large and small particles. With it's 4-layer two way protection, it can filter out air entering and exiting the wearer. The mask has a blown filter to reduce exhalation resistance, which makes it easier to breathe.
Legal Disclaimer
Taking level of exposure into consideration, this mask can be used up to 1 week but it should be discarded immediately if it becomes damaged or deformed; wet or visibly dirty; breathing becomes difficult. The mask can be used for respiratory protection form particles such as dust, pollen, haze, droplets and other air pollutants. if the mask is damaged or aged then it needs to be replaced. To keep the mask clean please avoid contact with any other surfaces.
Images: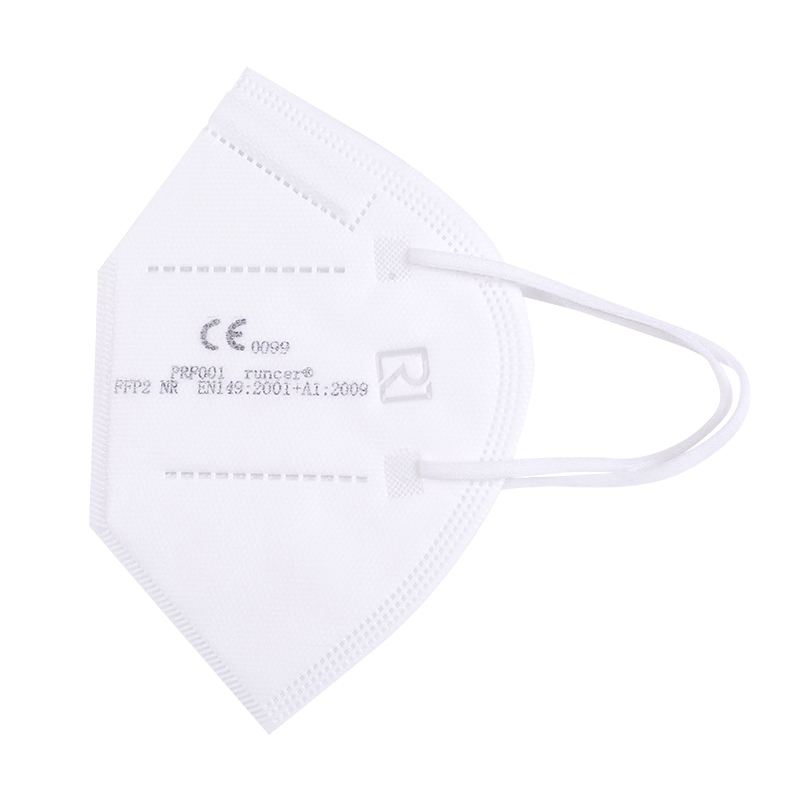 Instructions manual
Product Name: Particulate Filtering Respirator
Model: PRF001
Type: Particulate Filtering Half Mask
Class: FFP2 NR
Standard: EN149:2001+A1:2009
Intended Usage:
This product, which is normally used in the daily environment, is designed to help provide reliable respiratory protection of against certain airborne particles and dust and so on.
Product composition:
The product is designed to have 4 layers of material. The first layer is made of polypropylene non-woven fabric. The second and third layers are made of polypropylene melt-blown non-woven fabric. The forth layer is made of polypropylene non-woven fabric. The nose clip is made of polypropylene and Iron. The ear straps are made of 75% nylon and 25% Spandex.
Attention before use:
Please read these instructions thoroughly before use. Our face mask is non-re-usable particle filtering half mask. This mask is intended exclusively for the personal protection, it is not medical face mask.
Instruction for use
1. Wash or disinfect hands before taking out the mask off the package. Avoid touching the inner surface of the mask.
2. Hold the mask by the ear straps and get the nose and mouth inside the mask.
3. Fix the ear straps around both ears
4. Hold the mask against your chin with the back of one hand.
5. Place the fingers of both hands in the middle of the nose clip, while pressing inwards,
6. Move the finger tips along the nose clip to both sides, and press the nose clip into the shape of nose bridge completely
7. Do not touch the mask while in use. If so, wash or disinfect your hands.
Instructions to remove and discard the mask
1. To remove the mask, use thumbs and index fingers to remove both ear straps
2. Carefully dispose the used mask adequately
3. Wash or disinfect hands
Cautions and Warning
1. Prior to use please check fit of particle filtering half mask.
2. It is unlikely that the requirements for leakage will be achieved if facial hair passes under the face.
3. This product does not supply oxygen. Use only in adequately ventilated areas containing sufficient oxygen to support life.
4. Do not use when concentrations of contaminants are immediately dangerous to health or life. Do not use this product in an explosive atmosphere.
5. Never alter or modify this mask in any way.
6. "NR" means Non-Reusable. This mask shall not be used for more than one shift. No maintenance is necessary. Discard mask after use or if damaged in any way.
7. Children under three years old are not recommended to use the product because of their low vital capacity.
8. The masks must be stored and transported in their original package and protected by the storage temperature and humidity as suggested by the manufacturer.
Validity period:3 years after the production date
Storage and transportation conditions:Keep masks in the package away from direct sunlight or contaminants until use. Ambient temperature between -20°C to +40°C, and relative humidity <80 %, no corrosive gas, good ventilation.
During transportation, keep away from moisture, light and heat.
Specifications: 17.5cm×11.5cm
Shelf Life: Three Years
Company Profile
Jiangxi Ganlong Pharmaceutical Co., Ltd established in January 2010, It is located at 164 xiangjiang ave,Economic and Technology Development zone,Ganzhou City, Jiangxi Province. The capital is 6.75 million dollars.
We are not only deal in medical devices(MD):disposable medical masks, surgical masks (ear hook, bandage),medical protective mask( Fold, Cup), disposable medical protective clothing, medical inspection gloves, disposable medical caps, but also deals in personal protective equipment (PPE):Particulate filtering respirator(Fold, Cup),disposable protective masks, disposable isolation clothing, disposable goggle , disposable face shield, disposable rubber gloves, disposable nitrile gloves.
Our company strictly implements the EHS management guidelines of the International Pharmaceutical Supply Chain Association, and complies with local specific environmental protection, safety and occupational health regulations. Jiangxi Ganlong Pharmaceutical Co., LTD will escort your health!
FAQ:
1、 Are you a factory or trading company ?
We are a Manufacture,and we have more than 10 years production experience forMedical masks,surgical masks ,particulate Respiratorsect .we can offer you the best quality &reasonable price products for you.
2、What is your main products?
Our main products are Self-priming Filter Anti-particulate Respirator (KN95), Disposable Plane Protective Mask, Isolation Garment, Isolation Eye Mask, Isolation Mask, Disposable Rubber Gloves, Disposable Nitrile Gloves;Disposable Surgical Masks(Sterile, Non Sterile), Medical Surgical Masks( Sterile, Non Sterile), Medical Respirator ( Sterile, Non Sterile), Medical Protective Clothing,Medical Infrared Thermometer, Medical Isolation Gown, Medical Isolation Blindfold, Check Medical Isolation Masks, Medical Disposable Gloves, Surgical Caps and Other Medical Products.
3、How is your service quality?
We provides 24-hour online q&a. Fast delivery service after payment confirmation and After-sales service.
4、How about your Inspection & Packaging?
We will do inspection before packaging. Standard Export Packaging.
5、Why we choose you? What is your strength?
We are the white list of Chinese medical industry company and we have professional services and many year of experience in the production of Medical masks,surgical masks ,particulate Respirators ect .We spend more time communicating with you and more energy on the design and manufacture of each product.
MORE:For further information,please contact our enthusiastic sales personnel, We will offer warm-hearted service to you! If you are interested in our product or have any inquiry please feel free to contact us.
Contact Us
Tel:0797-5882658
Fax: 0797-5882658
Cell: 86 18907971161
Sales Manager: Vera Zhong
Enterprise Email: info@glpharma.cn
Sales Email : vera.zhong@glpharma.cn
Company Website: https://www.cnglpharma.com
Alibaba Store: https://glpharma.en.alibaba.com/